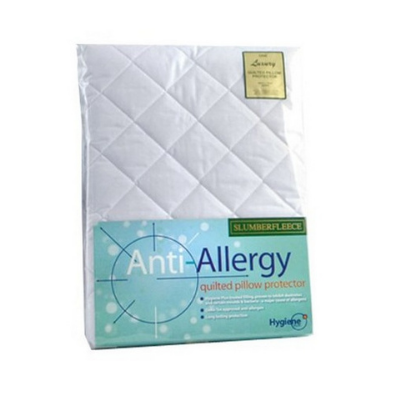 Anti-Allergy Quilted Pillow Protector
Hygiene Plus Anti-Allergy Pillow Protector - Anti-Bacterial and Anti-Dustmite Treated Filling.
Luxurious polycotton cover with environmentally anti-bacterial fillings. The anti-allergy quilted pillow protector features a luxurious cotton cover and super soft hollow fibre 'Hygiene Plus' treated filling which makes it ideal for allergy sufferers. It inhibits dustmites and certain mould and bacteria, which are recognised as triggers for allergies such as asthma, eczema and rhinitis.
Features:
Hygiene Plus treated filling, proven to inhibit dustmites and certain moulds and bacteria - a major cause of allergens. 
Hygiene Plus is safe, odourless, environmentally friendly & bio-degradable
Hygienic - Promotes a healthy and comfortable sleeping environment
Luxury quilted cover protects and prolongs the life of your pillow
Oeko Tex approved anti-allergen
Long lasting protection
Washable at 

40°c

Size 48cm x 74cm APPROX